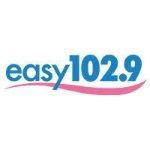 Easy 102.9 - 102.9 FM Jacksonville
WEZI (102.9 MHz "Easy 102.9") is a commercial FM radio station in Jacksonville, Florida. It airs an adult contemporary radio format and is owned by Atlanta-based Cox Media Group.
The station's studios and offices are located on Belfort Parkway in Jacksonville's Southside district. The transmitter is off Hogan Road in the Arlington neighborhood. WEZI is a Class C FM station, running at an effective radiated power (ERP) of 100,000 watts, from a tower at 1,014 feet (309 m) in height above average terrain (HAAT). Its signal stretches from the Georgia coast to south of St. Augustine, Florida to southwest as far as Gainesville, Florida.